If you are looking to buy a security door or add security screens to your property it is a good idea to do some good research. There are many security screens on the market and many security companies making claims about their products. When choosing residential security screens, it is important to know the real facts.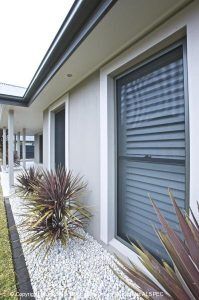 Security door installation should come firstly with a parts and labour warrantee, ensuring the handles and locking systems including the installation of the security screen is covered. Ensure the
company is a credible company and has at least been in business longer that=n the warrantee they offer.
Stainless steel security screens and security mesh for windows all come with a warranty on the screens dependant on the quality, you will see by the research example below most credible quality screens have from 10 years to a 15-year warranty.
Here is an example on how to evaluate your choice from 2 leading Stainless-Steel Security screen door products.
Invisi-gard security screens and Crimsafe security screens are both Australian companies that comply with the relevant Australian Standards – AS5039-2008 (Security screen doors & Security window grilles)
Both Companies security screens have passed the required tests
Knife Shear Test AS5039 – PASSED
Salt Spray Test AS2331.3.1 – PASSED
BAL40 Rated AS1530.8.1 – PASSES
Invisi-gard 15 year standard warranty
Invisi-gard security doors can be sourced from many door companies, although all manufacturing of the door is completed by a registered Invisi-gard security door manufacturer to ensure high quality. Invisi-gard security door costs can be sourced direct from the Invisi-gard manufacturer. Invisi-gard reviews can be found on leading product review sites like whirlpool.
EGP(extreme grip protection) – This locks the 316 Marine grade stainless steel mesh into the heavy duty extruded aluminium framing. This system completely isolates the stainless steel from the aluminium as the mesh is captured by the insulator "L shaped co-extrusion" and the keeper ( a straight, ribbed co-extrusion). A rigid PVC wedge is driven into the receiver channel around the full perimeter of the screen. This in turn applies uniform pressure at all points and locks the mesh into the frame.
Note: there so no metal on metal in this framing it is separated by a patented PVC insulator.
Tamper resistance – The patented EGP retention system means no unsightly screws or other fixings that can be removed easy, is also lever proof.
Frame Material – Aluminium
Mesh Material – 0.9mm, 304 Stainless Steel Mesh
Wire Count – 11 x 11 per 25mm sq
316 Stainless – has more nickel 10% and 2% molybdenum to 304 stainless to get 316, this has the best corrosion resistance. It resists pitting and corrosion by most chemicals and is particularly resistant to salt air and water. If you live within 50km from the ocean or salt water river you should choose 316 stainless.
Locks – 3-point locking system
Hinges – 3 Hinges
Custom Built – Yes
Crimsafe 10 year standard warranty
Crimsafe Regular, Crimsafe Ultimate product both comes with a standard 10 Year Warranty. You can register to increase the warranty on Crimsafe Regular products to 12 years, or on Crimsafe Ultimate or Crimsafe iQ™ products for 15 years, by completing a form. You must register within 60 days of purchase.
Crimsafe security doors are only available from a registered Crimsafe dealer, Crimsafe screen costs are available direct from the Crimsafe manufacturer. You can read more Crimsafe reviews from leading product review sites like whirlpool.
Crimsafe manufacturing of Security doors-
SCREW CLAMP SECURITY – This clamp 304 Tensile-Tuff security mesh between 2 separate pieces of metal, then a screw is fixed through the mesh and frame.
Tamper resistance – The Crimsafe security door screw can only be applied or removed by a Crimsafe tooling system, is also lever proof.
Frame Material – Aluminium
Mesh Material – 0.9mm, 304 Stainless Steel Mesh
Wire Count – 10 x 10 per 25mm sq
304 Stainless – Made of 18% chromium and 8% nickel, has a good resistance to corrosion by a great number of chemicals. It suits a broad demand for adequate performance at an affordable price. Suitable for less demanding exterior environments but not effective in more volatile applications. 304 stainless is not suitable in a coastal marine (within 50km of ocean or salt water river)
Locks – 3 point locking system
Hinges – 3 Hinges
Custom Built – Yes
Crimsafe security doors are a household name as they have had a lot of continuous marketing helping build a strong brand presence on radio and television.
Want to learn more about security door screens or security window screens?
You can find out security doors pricing or you can contact us for your own Invisi-gard security door or Invisi-gard security window screen by clicking here