The Safety and Security Rebate for senior card holders was introduced on the 22nd of August 2021. Senior card holders in Western Australia can claim up to $400 towards the purchase of some home security products.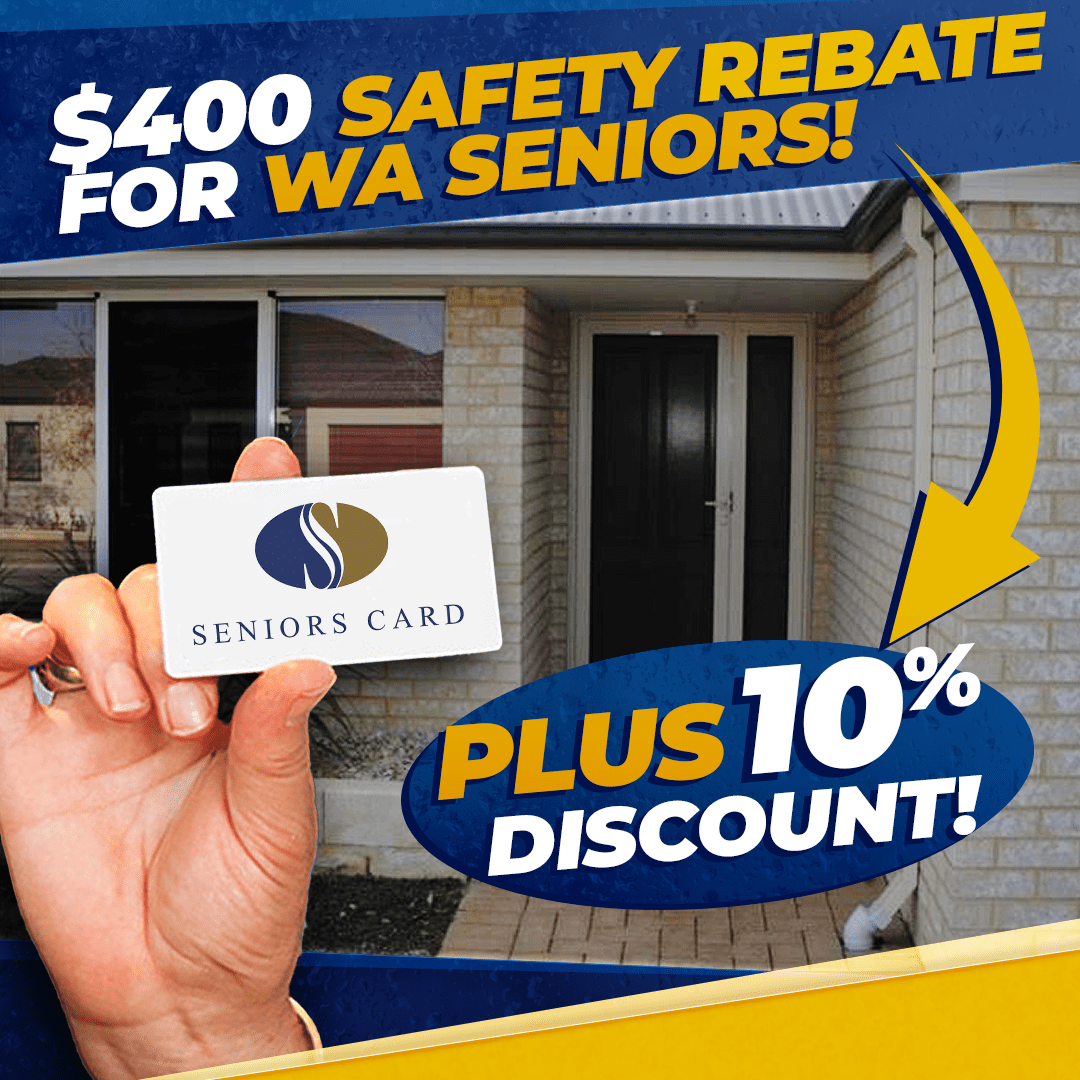 Purchases are able to be claimed as long as they are made after the 22nd of August 2021.
It is suggested before you purchase an item and if you wish to make a claim, please read the Terms and Conditions first.
Mention this advert and have your senior's card ready to receive a 10% Seniors Card Discount when booking a new security door or window security with Custom Screens.
Purchasing a Security Door or Window?
To be able to apply for the rebate on a security door or security window you must have purchased through a business that can provide some of the following information:
The product supplied must meet or better Australian Standard AS 5039:2008
Must be a registered installer with a Security Agents Number
Provide a Registered ABN number
Security Installer and Security Agent licences
Regarding a Security door or window screen product, the security company you purchase from must have a valid Security Installer licence issued by WA Police in order to install, maintain or repair a security door.
The business Providing the service must have a valid Security Agent licence issued by WA Police.
Custom Screens – Security Agents Number: SA 01131
What Is the Rebate For Security Doors or Security Windows?
Under the Seniors Rebate scheme, you can receive a rebate on the following door and window items. It's important to note that in order to claim the rebate, the item/s must meet or exceed Australian standards. In most cases, the item must also be installed by a licensed security installer.
New Security Screen Doors – $400
Note if this item is installed by a contractor, the contractor must be a licenced Security Agent and Security Installer
Deadlocks – $200 each, maximum of $400
New Security Window Screens or Window Shutters – $400
Repairs of Security Screen Doors, Deadlocks or Window Screens – $400
Repairs must be carried out by a qualified contractor with the requisite licenses and meet the applicable Australian Standards where relevant
NOTE: Custom Screens Security Doors and Screens – EXCEED Australian Standard AS5039:2008 Custom Screens – Security Agents Number : SA 01131
What Products Can Custom Screens Provide That Are Rebatable?
Custom Screen can provide Security doors, Security windows or can repair Security Doors and Windows. Here is a link to our range of products:
How Do I Apply for the Security Seniors Rebate?
Here is an easy step-by-step on how to apply for the Safety and Security Rebate
Example 1: Login by clicking on this link or search Google for the WA SENIORS CARD website. Log into your account – If you do not yet have an account you can click here.
Option 2: To get an application form click here to complete it. Once you have filled out all the relevant information you can either post the application form with a copy of your receipt or you can scan and copy of the form and receipt and send it to info@seniorscard.wa.gov.au.
Option 3: Alternatively you can call the WA Seniors Card Centre on 1800 671 233 or just email info@seniorscard.wa.gov.au to request your application form to be sent via the post or it could be emailed to you.
Option 4: You can visit the WA Seniors Card Centre for a F2F discussion at 140 William Street, Perth.
Option 5: Or Visit any Department of Communities customer service counter.
Option 6: Or if you are located in Southwest you can visit Service WA Bunbury at 24 Wellington Street, Bunbury.
Before You Purchase and Choose Your Supplier We Suggest:
Click here to read one of over 400 5 STAR Google reviews left by our customers
Check for a reputable company – Custom Screens has been servicing Perth for over 40 Years
Does the provider product meet Australian Standards? Custom Screens Products EXCEED the required standards.
Do the suppliers have a Security Agents Number? Custom Screens Security Agents Number SA 01131
Call one of our friendly staff on 08 9279 7444 if you need some help with choosing the right product or for a free quote.
Contact us now at 9279 7444 – We Look forward to being able to help you!